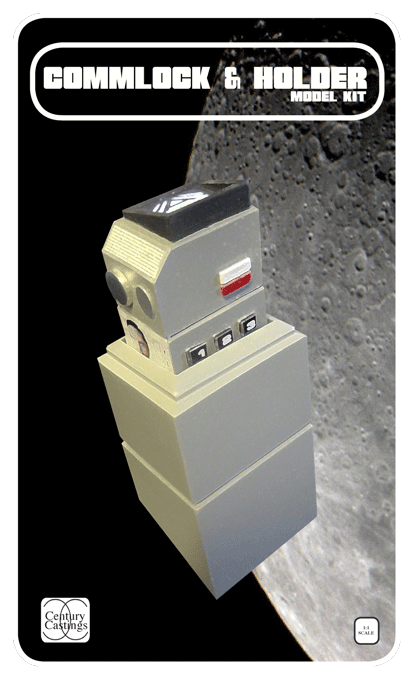 Commlock holder and commlock model kit
£50.00
Only 4 remaining
FROM CENTURY CASTINGS.
UPDATED FOR 2021 WITH RETOOLED HOLDER FEATURING HEAVIER BASE AND LOCATING TUBE.
A 1:1 SCALE, 6 PART CASt RESIN COMMLOCK AND COMMLOCK HOLDER KIT. A SHORT RUN OF RESIN KITS THAT INCLUDE THE RARE COMMLOCK HOLDER.
THE KIT COMPRISES ALL THE PARTS NEEDED TO BUILD ONE UNPAINTED COMMLOCK AND HOLDER AS SHOWN IN THE PHOTO.
THE KIT INCLUDES:
A SET OF KISS CUT VINYL DECALS, THEY JUST PEEL OFF THE SHEET, NO CUTTING OR MESSING AROUND.
2 ALUMINUIM SIDE KNOBS FOR THE COMMLOCK.
A STRIP OF CHROME TAPE TO FINISH YOUR MODEL.
A SMALL PRECUT SHEET OF BLACK SELF ADHESIVE FELT.
A SET OF SMALL WATER SLIDE DECALS.
FULL PAINTING AND BUILDING INSTRUCTIONS ARE INCLUDED.
THE KIT IS CAST IN TOP QUALITY, POLYURETHANE RESIN. AS WITH ALL RESIN KITS, THE PARTS WILL REQUIRE FINISHING / FILLING. YOU CAN EXPECT SOME AIR BUBBLES TO FILL AND FLASH TO REMOVE. COLOUR OF THE POLYURETHANE CAN VARY FROM KIT TO KIT AND COULD BE LIGHT GREY TO A DARKER GREY.
A NICE KIT FOR THE MODEL MAKER WITH MODERATE SKILLS.
THE KIT IS DESIGNED WITH SOLID PIECES FOR STRENGTH AND TO GIVE A NICE WEIGHT.
centurycastings.co.uk
MODEL KIT DESIGNED BY ALEX JACKSON.