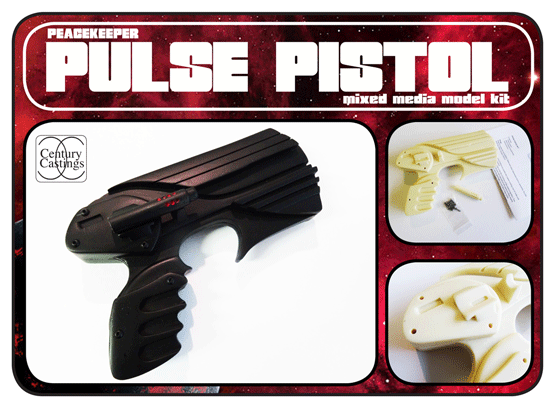 Farscape peacekeeper pulse pistol prop model kit
£30.00
Sold out
NEW FROM CENTURY CASTINGS!

CRISP CASTS OF THE FARSCAPE PEACE KEEPER BLASTER. NEW TOOLING, NEW MASTER. NOT A RECAST. 1:1 SCALE AND POSSIBLY THE BEST KIT AVAILABLE.

THE KIT COMPRISES ALL THE PARTS NEEDED TO BUILD ONE BLASTER AS SHOWN IN THE PHOTOS AND INCLUDES:

FULL INSTRUCTIONS FOR BUILDING AND PAINTING.
3 POLYURETHANE BLASTER PARTS.
10 STAINLESS BUTTON HEAD BOLTS
A LENGTH OF ACRYLIC ROD.

THE KIT COMES IN A POLYPROPYLENE BOX THAT CAN BE USED TO STORE YOUR FINISHED MODEL IN.

EACH KIT IS CAST FROM THE MASTER MODEL, IN TOP QUALITY, STRONG, POLYURETHANE RESIN. AS WITH ALL RESIN KITS, THE PARTS WILL REQUIRE MINOR FINISHING / FILLING. THE KIT IS CAST IN 2 HALVES TO FACILITATE THE EASY INCLUSION OF ELECTRONICS IF DESIRED.

A VERY NICE KIT FOR THE COSPLAYER AND FARSCAPE ENTHUSIAST. VERY EASY TO BUILD.

KIT MASTER CREATED BY ALEX JACKSON.