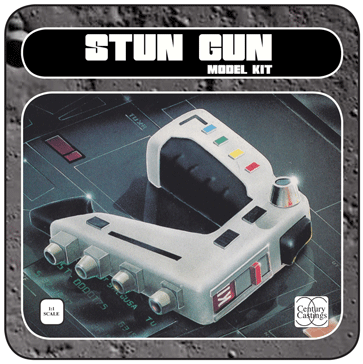 Space1999 stungun split body version model kit
£20.00
Only 5 remaining
OUR CLASSIC 1:1 SCALE SPLIT BODY STUNGUN VERSION IS BACK.

SLPIT BODY POLYURETHANE MODEL KIT ENABLES EXPERIENCED MODEL MAKERS TO HOLLOW THE BODY PARTS FIT THEIR OWN ELECTRONICS.

THIS RESIN KIT COMPRISES ALL THE PARTS NEEDED TO BUILD ONE STUN/KILL GUN.

THIS KIT IS NOT A RECAST OF AN EXISTING KIT OR MODEL. ALL MASTER PARTS WERE HAND CRAFTED BY ALEX JACKSON.

KIT INCLUDES:

FULL BUILDING AND PAINTING INSTRUCTIONS.
1 SET OF VINYL STUN/KILL SWITCH STICKERS.
1 STUN GUN BODY IN 2 HALVES.
1 SET OF 4 VARIABLE HEIGHT EMITTERS.
1 PAIR OF SIDE BUTTONS.
1 2 TYPES OF TOP SELECTORS
1 TOP TRIGGER.

THE KIT IS CAST IN TOP QUALITY, POLYURETHANE RESIN. AS WITH ALL RESIN KITS, THE PARTS WILL REQUIRE FINISHING / FILLING. THE COLOUR OF THE POLYURETHANE MAY VARY FROM KIT TO KIT AND RANGES FROM WHITE TO BLACK.

A NICE KIT FOR THE MODEL MAKER WITH MODERATE SKILLS.

THE KIT IS DESIGNED WITH ALL BUTTONS, SWITCHES AND EMITTERS AS LOOSE PIECES TO GIVE THE MODEL MAKER CHOICE.

THE HAND GRIP ON THIS KIT IS TEXTURED SLIGHTLY TO GIVE IT REALISM WHEN PAINTED AND A NICE FEEL WHEN HELD.

MODEL KIT DESIGNED AND SCULPTED BY ALEX JACKSON.